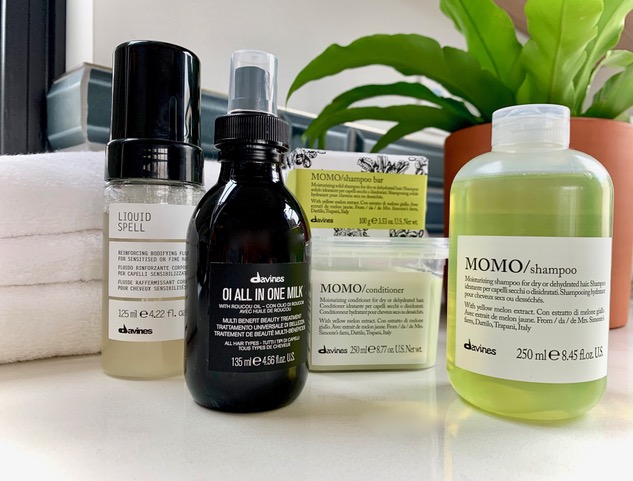 November 14, 2021
Four Natural, Healing Products that Leave the Damage Behind
The last year and a half have left just about everyone feeling frazzled, fried, and a bit damaged. Now that we are re-introducing ourselves back into the world, let's show up in person as our best selves! To do that right, we all need a little self care, including some extra love for our neglected hair. To help your tired, forgotten hair get back in the game, try my personal mix and match recipe of natural products for well-loved, lustrous hair:
1. Start with a MOMO Cleanse
Wash away impurities and bad energy with Davines' gentle, hydrating MOMO Shampoo, designed to nourish dry, damaged hair. MOMO also comes in bar form, which is both kinder to the earth and more convenient for those of us who are traveling again!
2. Quench and Pamper with MOMO Conditioner
Massage this rich conditioner into dry, dehydrated hair, focusing on the ends. Allow the conditioner to soak into your hair while you shower. MOMO Conditioner helps to untangle while leaving your hair soft and silky and ready to take on the world.
3. Spritz with OI ALL IN ONE MILK
Next, treat your towel dried hair to a mist or two of this hydrating potion. OI ALL IN ONE Milk detangles, reduces frizz, and protects your hair all day long.
4. Finish Strong with LIQUID SPELL
Strength comes in many forms, including this powerful leave-on treatment. Layer in a dime size amount of LIQUID SPELL and let it seal in the hydrating MILK. LIQUID SPELL will compact your hair structure, fill in the gaps, and add another layer of protection along with beautiful body and shine. Now you're ready to style.
One more thing … I've hand-poured a small batch of aromatic, earthy White Birch Candles in my West Coast studio to help light the way forward. Made from 95% soy wax and 5% coconut wax, they are a personally made gift designed to add more beauty and fragrance to our days ahead. Give one to a friend or light one for yourself and let the healing begin!